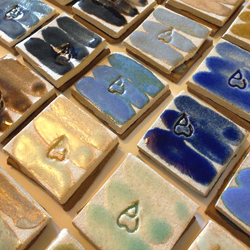 I am largely a self-taught potter, predominantly working with stoneware clays. The majority of my pieces are wheel-thrown functional items for use around the home and for the individual, although I am always producing larger experimental pieces and occasionally hand-built work. I use both white and 'iron bearing' stoneware clays fired to 1240℃ in an electric kiln. I am constantly developing (and evolving) my own glazes and am especially attracted to glazes that react when used in tandem or with the clay body itself.
Occasionally I get the opportunity to fire my work in different kiln environments such as salt-fired, soda-fired, wood-fired, smoke-fired or gas reduction. I have also produced raku-fired pieces and worked with lower temperature earthenware clays.
I continue to develop new designs and styles with a leaning towards working with texture and decoration. I am a member of Anglian Potters (an association of over 500 potting members) which continues not only to be an inspiration but also a source of support and knowledge in the often bewildering world of ceramics.
See the Gallery (Instagram) page for current images of my pottery.